Display Holography Exhibition in Minsk, Belarus (1st Oct - 1st Dec 2011)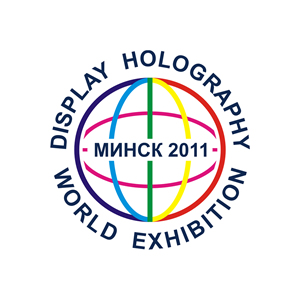 On Oct 1st, 2011 the World Exhibition of Display Holography focusing on the development and progress of display holography since the early days of the USSR to this date was officially inaugurated. More than 160 holograms of all types (monochromatic, pseudo-colour, full-colour, analog, digital) originating from 20 different countries and a multitude of reknown holographers are exhibited.
The Hellenic Institute of Holography participates as a co-organizer of this exhibition, for the purposes of which 60 historic display holograms from its Collection are made available, selected on basis of their importance in the development of colour in display holography for cultural applications.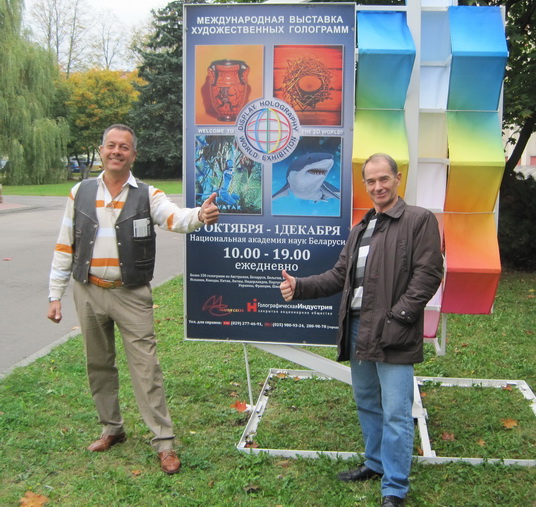 Alkis LEMBESSIS & Michail SHEVTSOV
This Exhibition is taking place in a specially adapted hall of 800 sqm at the ground floor of the National Academy of Sciences of Belarus and it is expected to attract great interest from local and international audience as it is the first of its kind putting together exhibits from the former Soviet republics in addition to the latest international developments in the areas of Display and Museum Holography. A digital (CD) catalogue with detailed individual description and video view of each of the exhibits together with a virtual tour is available for sale at the entrance of the exhibition.
Alternatively, you may obtain a general overview by visiting our temporary HiH link at: http://minsk2011.hih.org.gr/en/gallery.html where commemorative photos from the event and videos from local TV coverage can also be found.
The exhibition will last until Dec 1st, 2011 with daily opening hours for public between 10am-19pm. Special coverage by the local media and organized guided visits for school students during the 2 months of its operation are already scheduled.
For more information, you may wish to visit our webpage:
http://www.hih.org.gr/en/institute/projects/exhibitions/minsk-2011.html