Participation at the Holography Exhibition in MIT
'Indra's Net' is a subtle metaphor in Hindu cosmology depicting the structure of reality as a vast net of interconnected gems, with each jewel reflected on all other. Therefore, as contemporary physicists are in general agreement that this ancient allegory is indeed a good description for the universe (and very much in line with the notion of a holographic universe) the title selected by MIT Museum (A Jeweled Net: Views of Contemporary Holography) for its exhibition opened in Boston on June 26th is very appropriate. And the HiH participation in it with 'the Chios Epitaph' already seems to be a popular exhibit among 20-odd other pieces of state-of-the-art in display holography selected by a panel of experts and 'showcasing the artistic and technical merit of individual works'.
"Exhibiting at the MIT Museum an object of such explicit religious content is very unusual for us" says Seth Riskin, Manager of Emerging Technologies and Holography/Spatial Imaging Initiatives. "However, it was felt by all Museum curators that -aside from its strictly holographic merits- this may well be an extra reason for having it on display in our Gallery"!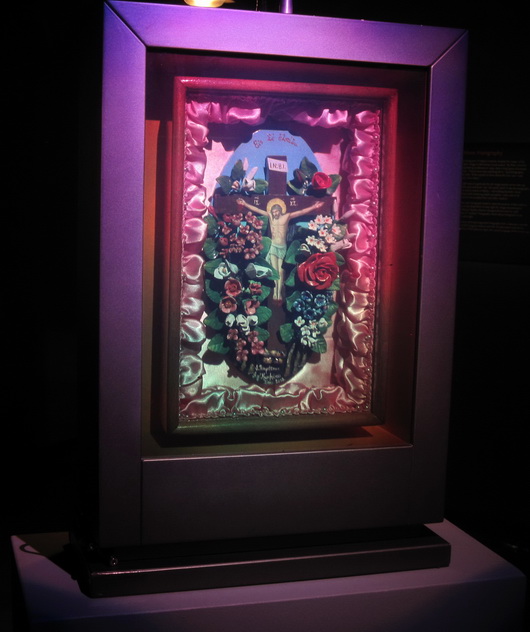 Is this a hologram?
'The Chios Epitaph' is a marvellous religious artifact, which combines local folklore with hagiography and is hand-made by residing nuns at the reknown handcraft workshops of the monastery of the Holy Parthenon of St. Constantin and Helen at the location of Francovouni on the Greek island of Chios. By meticulously combining elements of Orthodox hagiography, fabric weaving, artistic jewelry and decorative couture, it depicts a Crucifixion in the form of a flower-decorated Easter Epitaph of approx. size 25x35cm in a varnished wooden container frame of approx. 5cm in depth. This is an object of peculiar beauty and strength, primarily addressed to Greek Orthodox pilgrims but equally appealing to other Christian faith disciplines, possibly a sign of cultural familiarity and influence from the period of occupation of the island by Francs following the Crusades.
At the same time, this object constitutes a particular challenge from a technical aspect...
... on account of the extra difficulties associated with its holographic recording: minute details, physical multi-level depth, vivid bright and pastel natural colours, wooden substrate pertinent to humidity absorption, lots of fabric cloth, variances in light reflection by the satin textile, free-standing metal flowers with vibration resonance, relatively large size and a fragile nature. Each of these demanding elements on its own merit constitutes the nightmare of every holographer whereas, in this case, the whole exercise assumes an exponential level of difficulty since a mobile camera setup was used for the holographic exposure outside the controlled environment of a dedicated laboratory. So, a deep sense of satisfaction is only natural for HiH chief holographer, Andreas Sarakinos, in justification of his experimental efforts.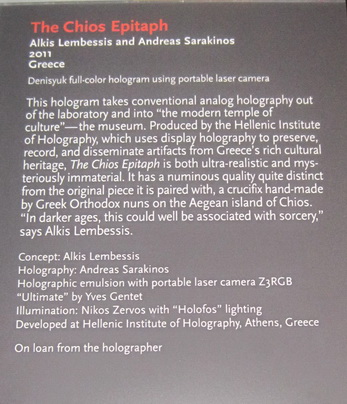 Moreover, the innovative approach of HiH to display its creations in the form of Optical Clones (OptoClonesTM) in direct visual comparison to the original work of art has a distinct effect on the viewer. "Your hologram emits a particular esoteric strength and a more powerful internal mystique than the original object, emotionally touching even those who do not share the same religious experience but –still- view it with an open heart" says American artist Mary Harman (painter and holographer).

Clearly, the specific lighting introduced plays an important part in enhancing this ultra-realistic sense. The intelligent LED illuminant ΗoLoFoS of 3rd generation replays faithfully all subtle natural colour shades as well as every object detail with extreme clarity not only on the plate surface but equally in the background.
More information on this on-going exhibition can be found at the website of the Organizers while it is planned for an electronic catalog of the exhibits to soon appear on line. In the meantime, we have posted at our relevant web page some amateur pics from the exhibition galleries in the hope that it serves as an extra incentive for interested viewers to visit and personally eye-witness in-vivo this unique holographic marvel show lasting until the end of Sep 2013.
Watch this space for more exciting developments in the area of Display Holography.
"Ενα μεταφερόμενο σύστημα για την επιτόπια καταγραφή ελληνικών πολιτιστικών τεχνουργημάτων σε έγχρωμα ολογράμματα τύπου Denisyuk με την χρήση ολογραφικών πλακών παγχρωματικών γαλακτωμάτων και μια πρότυπη βελτιστοποιημένη συσκευή για τον σωστό φωτισμό τους".