Our HiHstory
The Hellenic Institute of Holography (HIH) was established in Athens in 1987 with the purpose of introducing and promoting Holography in Greece in all possible areas: science, art, media and authentication. HIH has the status of non-profit scientific and educational organization with its income derived by members' contributions and services to third parties.
For a number of years, HIH operated the only non-academic holographic laboratory in Greece. At the same time, it established a DataBase of literature, articles and publications relevant to Holography and prepared a Technical Manual on Practical Holography in Greek language.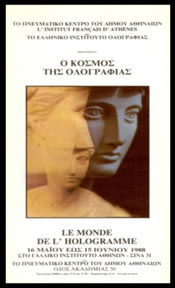 Among the early public activities of HIH was the setup and organization of the first major exhibition on Holography in Greece in 1988 entitled 'THE WORLD of HOLOGRAPHY; in cooperation with the Athens French Institute and the city of Athens. Within this context, exhibits from the French Museum of Holography of A-M. Christakis and from Greek holographers were made available to public for a period of one month in two central-city locations with an attendance of 10,000 visitors and high-profile media coverage. In parallel, an international conference on Industrial Applications of LASERs was held together with a short-term hands-on demonstration laboratory on Practical Holography.
Building on previous success, HIH organized in 1990 and in cooperation with the City of Athens a pilot vocational program for Young Holographers with EU-finance. During this program, 25 young people of various background and disciplines were trained in practical holography for a period of 9 months and their holographic creations were exhibited in public for one month at the Cultural Centre of the City of Athens.
Smaller temporary exhibitions of display holograms were organized over time (City of Maroussi, Cultural Centre of The City of Patras etc.) as well as numerous presentations in colloquia and conferences (AKTO schools, Association of Greek Physicists, Art Centre ILEANNA TOUNTA, Universities of Athens and Patras, Technical Universities of Piraeus and Crete etc.). In cooperation with the National Association of Greek Physicists, a self-financed training program for teachers of secondary education was also held at the HIH laboratory.
In 1992 and within the framework of the EU-financed PETRA program, a network of European holographic training laboratories was established involving participants from Greece, Belgium, Holland and Germany. As part of this network ambitiously entitled EUROPTIC (more details here), young exchange students from various disciplines were trained in Display Holography and Holographic Interferometry. A commonly agreed syllabus for vocational training in holography was developed, certification standards were proposed, 4 trainers were trained and tailor-made training programs were financed and placed for 9 Greek exchange holographers.
In 1994, HIH was involved in the development of the then novel integral digital holography system MVH (Multichannel Video Holography) funded by the Greek General Secretariat for Research and Development.
During the same period, HIH participated in the ambitious joint scientific project entitled 'Holographic Methods for the Recording, Inspection, Testing and Restoration of Cultural Heritage' with EU finance within the framework of the INTAS-93-2779 (more details here) program on cooperation with ex-Soviet institutions. Participants in this project were the most renowned institutions with proven expertise in the field of Cultural Heritage such as:
The Soete Laboratory of the University of Gent, Belgium (prof. Pierre Boone)
The Centre of Applied Holography of Kiev, Ukraine (prof. Vladimir Markov) and
The Vavilov Optics Institute of St. Petersburg, Russia (prof. Yuri Denisyuk).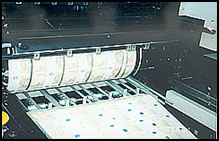 The expertise obtained through the overall activities of the HIH allowed companies such as CAVOMIT and TELCOM to develop proprietary equipment for the hot-stamping of security embossed holograms. This highly successful range of printing equipment has been exported and installed in state and private security print-houses in a large number of countries around the globe where it is still in use for the application of security hot-foil holograms on value documents and brand packaging such as tax banderols, banknotes, visa documents etc. The CAVOMIT equipment is indirectly accredited by the European Central Bank as it has been approved for the application of EURO banknote holographic patches at the Bank of Greece printworks.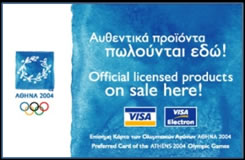 At the same time, the acquired in-depth knowledge of the subject allowed companies such as TAURUS SecureSolutionS Ltd. to become internationally active in the field of Document and Product Authentication with a large number of business credentials in Greece and abroad. Among such, the protection of the Licensing Program, of Ticketing and of Accreditation of the ATHENS2004 Olympic Games and of the DOHA2006 Asian Games prevail whereas TAURUS supplies authentication components for various brand protection programs such as IFPI-Greece, NESTLE, alcohol and tobacco tax banderols etc.
---