SYNERGASIA 2009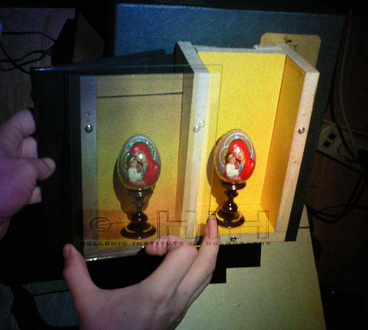 In response to a public call for proposals financed under the EU Structural Funds and involving display holography issued by the Greek State General Secratariat for R&D in Sep 2009, the Hellenic Institute of Holography submitted its proposal for the creation of digital and analog panchromatic holograms and of lenticular images of various objects, monuments and outdoor sites of the jurisdiction of the 33rd Directorate of Pre-historic and Classical Antiquities of the cities of Preveza and Arta in various numbers, types and sizes for touristic use and general promotion of the Greek cultural heritage.
The participants in this proposal were the Greek private companies TAURUS SecureSolutionS Ltd and AUTOTECH Ltd. in cooperation with the research facilities of the Automation Section of the School of Technological Applications of the Technical Educational Foundation (TEI) of Piraeus under the scientific supervision of the Hellenic Institute of Holography with the assistance of Greek sub-contractors and services of foreign EU companies.
The proposal assumed that for the generation of the holographic images and for their subsequent use a number of innovative pieces of equipment and software would be developed and in particular:
a robotic independent travelling camera for in situ still & video HD photo footage filming
the necessary software for control of this camera under pre-defined path
the necessary software for further processing, interlacing and rendering of the thus obtained footage into a suitable format for digital holographic printing
a mobile laser holographic camera for in-situ recording of full-colour Denisyuk holograms
an innovative LED illumination system with remote adjustment of color temperature and light intensity.
More than one year after its submission, this proposal was not found as fulfilling the criteria of the assessing committee in terms of sufficiently innovative characteristics and consequently was not included among those granted financial assistance. It must be noted that no other project involving holography was financed either in spite of the explicit specifications of the original call. Nevertheless, the Hellenic Institute of Holography and its partners decided to embark into this project on their own capablities.