Display Holography World Exhibition : Minsk 2011
Exhibition of Display Holograms: from Analog to Digital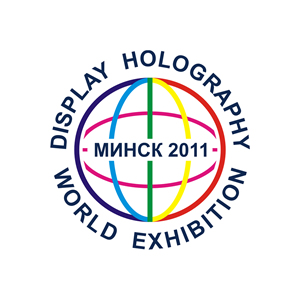 The first World Exhibition of Display Holography is taking place in a specially arranged hall of approx. 800 sqm at the National Academy of Sciences in Minsk of Belarus with daily operation from Oct 1st until Dec 1st 2011. The local consortium of companies HOLOGRAPHY INDUSTRY / LIGHT MAGIC is responsible for the organization of this exhibition, under the supervision and guidance of the acedemician Prof. Leonid TANIN, a reknown personality with high scientific credentials in the field of holography, who also conceived the need for such an exhibition project.
Institutions from various countries have been invited and accepted to contribute with holograms from their collections for the duration of the exhibition, where more than 160 hologram images originating from 20 countries are displayed: monochrome, full-colour, pseudocolur, digital, transmission and all other types of display holograms, some of which of historic or high collectible value.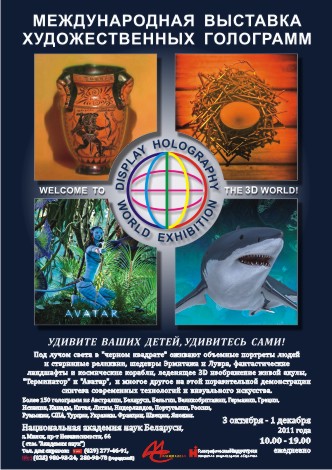 A large part of the exhibition focuses on holograms originating from various private collections from the Soviet era, a natural orientation of the exhibition given the importance that display holography for Museum Applications enjoyed at that time -mainly based on the type of holograms which carry the name of their inventor Yuri Nikolayevich Denisyuk.
The Hellenic Institute of Holography selected and made available for a period of 3 months approx. 60 holograms from its own Collection demonstrating the development of the use of colour in display holography. Within this framework, several artistic pseudo-colour holograms by Larry Lieberman (USA) are exhibited (together with an original vintage rare set of holographic masters for one of these) along with unique multicolour holograms of similar technique by Inaki Beguiristain (UK), digital and analog full-colour holograms by Yves GENTET (F), impressive full-colour transmission and reflection holograms by COLOR HOLOGRAPHIC (UK) next to large-format digital full-colur holograms of RABBIT HOLES (USA) και GEOLA (LIT). The limited edition large-format (80x80cm) digital hologram 'AVATAR', awarded as Best Hologram of the Year 2010 by the Int'l Hologram Manufacturers Association (IHMA) occupies a special position in the exhibition near some rare collectible holograms such as the 'Lovely Rita holodisc', a 'PORTHOL Aquarium' as well as the official mechandising poster of the first 'Batman' (1989) film which was used for promotional purposes in the Athens city movie halls enriched with a 3-channel transmission rainbow hologram by TELCOM (GR).
From Belarussian internet portal www.tut.by
Historic holograms from museum applications and associated works are exhibited in a special room where unique full-colour analog holograms depicting objects of Greek cultural interest commissioned by the Hellenic Institute of Holography occupy a central position not only on account of their high quality but also because of the innovative way of their exhibition against the original objects used.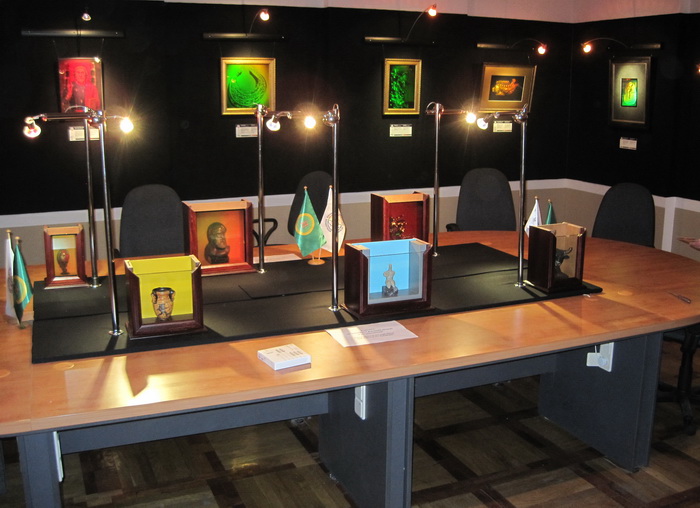 A virtual gallery of the exhibits is available at the web address http://minsk2011.hih.org.gr/en/gallery.html whereas a virtual tour of the exhibition will also be posted in due course. More information in Russian language can be obtained by visiting the web page of the organizers.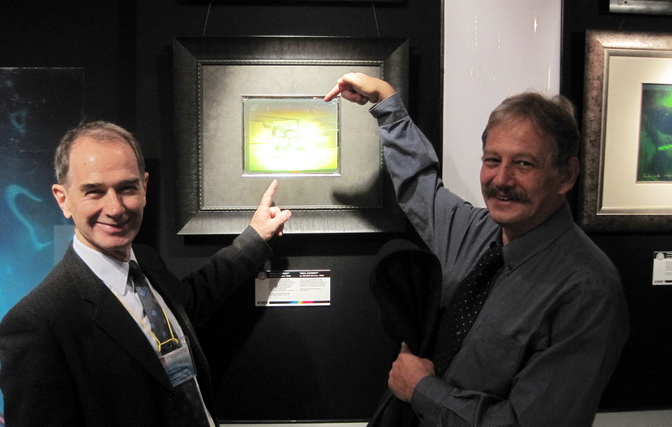 Michail Shevtsov & Andreas Sarakinos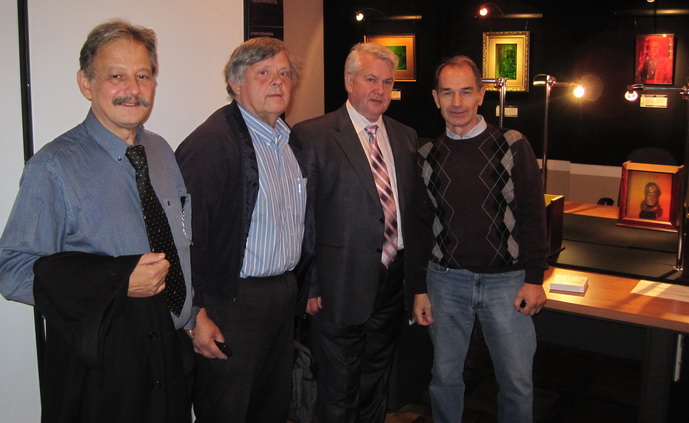 A.Sarakinos,H.Bjelkhagen,L.Tanin,M.Shevtsov
---