Stop Press ! (2015)
Posted on 06 Dec 2015
A 28-year-old pathway !!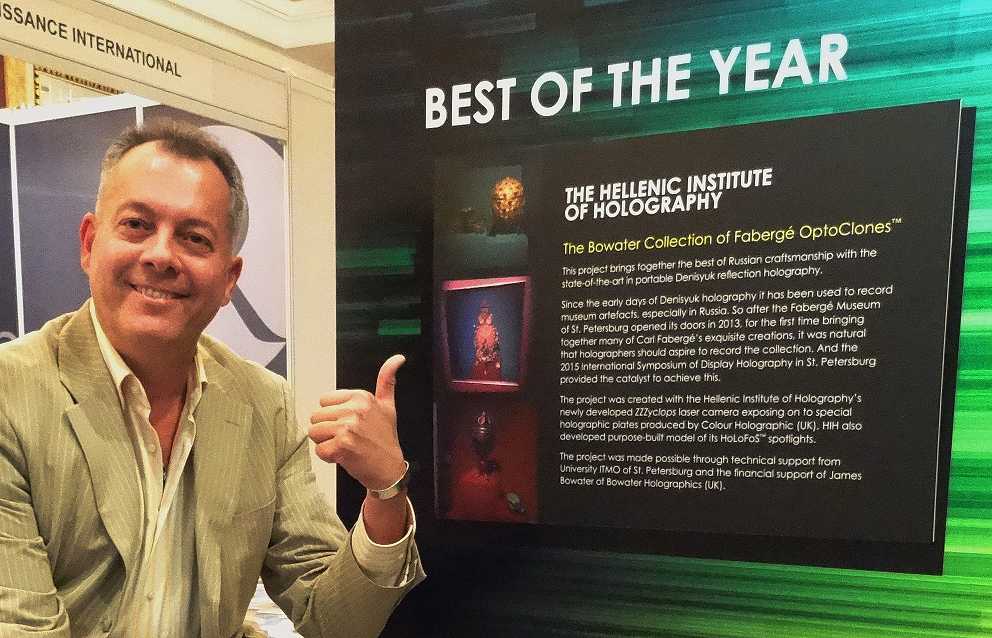 The ΙΗΜΑ 'Best of Year 2015'-Excellence in Holography award to the Hellenic Institute of Holography in Shanghai, China, marks the culmination of a very long pathway to success. This prize is only presented when the judges see an application that is truly outstanding to justify its elevation to best project of the year. The award was granted not only for the creation of the Bowater Collection of Fabergé OptoClones™ by Andreas Sarakinos, scientific director of HiH, but also for the development of dedicated display systems incorporating optimized illuminants. Naturally, the honour is further extended to all involved partners of HiH in this project, individuals and parties such as ITMO University and the Fabergé Museum from St. Petersburg, Russia as well as James Bowater, main sponsor of the venture.
---
Update 06 July 2015
A medal well deserved !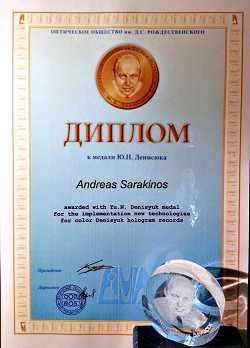 Within the framework of the most important meeting of world holographers, the 10th International Symposium of Display Holography, which took place in July for the first time ever in St. Petersburg, Russia, the scientific director of HiH, Andreas Sarakinos was honoured with the Yuri Denisyuk medal of the D.S. Rozhdestvensky Optical Society 'for the application of new techniques in the recording of colour holograms'. The joint organization of the Symposium by ITMO University and HiH in memoriam of Yuri N. Denisyuk (inventor of the type of holograms featuring his name) during 2015- the UNESCO Int'l Year of Light- marked a special point in time for this distinguished award to a person, who has practically dedicated the largest part of his professional life to display holography.
---
Update 30 June 2015
At the top-10 of Innovation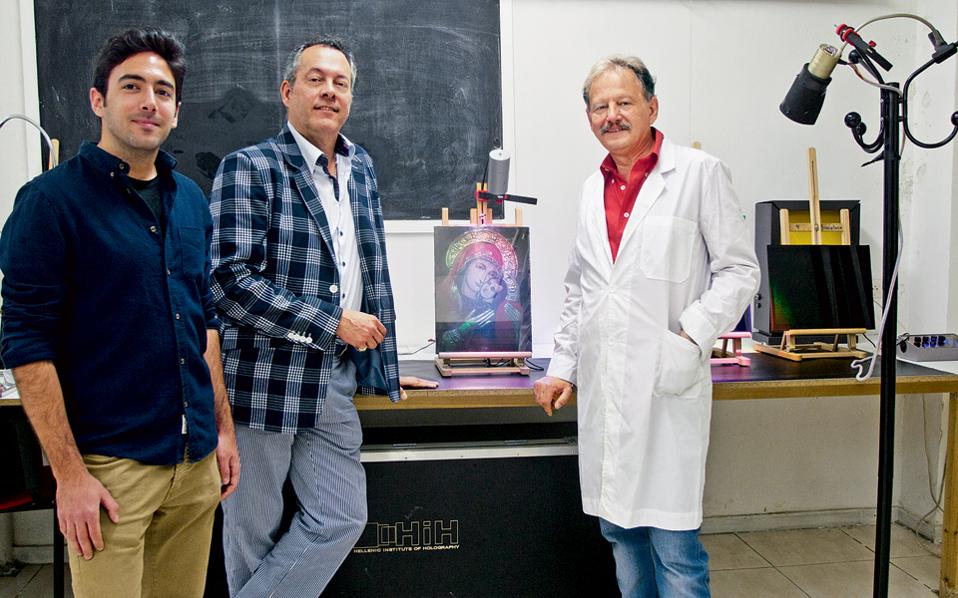 The ranking of the ' Τhree-dimensional Optical Clones of Works of Art ' in the top-10 of Applied Research among 208 candidates in the 3rd Competition "Greece Innovates!" (a joint initiative of Eurobank and the Federation of Greek Enterprises) is another public recognition of HiH activities. The proposal of the Hellenic Institute of Holography attracted wide publicity within Greece with special reports in Greek language daily press (KATHIMERINI), in TV (SKAI-First Line) and dedicated road-shows in selected academic venues in Greece. During the open-to-public verbal appraisal (video), Andreas Sarakinos and Tasos Tzerahoglou had the opportunity to demonstrate 'live' results obtained with the proprietary equipment developed by HiH.
This
award
is
only
presented
when the
judges
see an
application
that
is
truly
outstanding to
justify
its elevation as
the
besi
project
of
the
year.
This
year
the
award was
presented
to
The
Hellenic
lnsiitute
of
Holography
for
Ihe Bowater
Collection
of
Fabergd
OptoClones-"
which
the
judges
agreed
showed
innovative
and
imaginative
use
of
the best of Bussian
craftsmanship
with
the state-of-the-art
in
portable
Denisyuk
reflection
holography